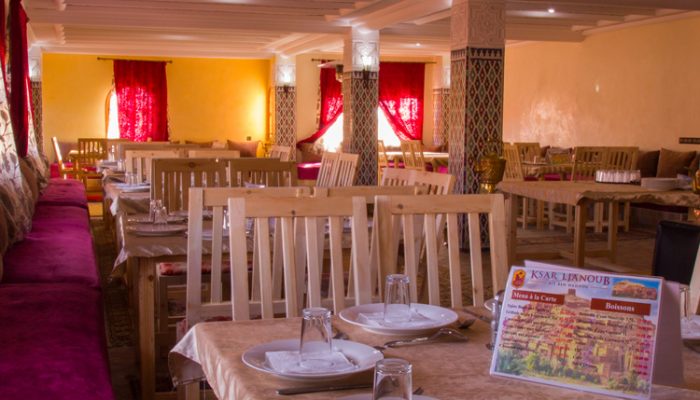 Our chief offers you a discovering of moroccan flavour
Our restaurant is open continuously from 8am for breakfast until 11pm for your lunch or dinner. We offer each day a new menu of moroccan dishes for our half-board clients. However, for our hotel clients as external ones, our menu "à la carte" is available. We can host your event with a capacity of more than 300 persons.
Restaurant #hotel Ksar Ljanoub #aitbenhaddou #morocco www.ksar-ljanoub.com – Spherical Image – RICOH THETA
These are the most important moroccan dishes we serve and you can savour – as you prefer, on one of our restaurant room, one of our terrace or by the swimming pool:
Skewer

s : of Turkey, chicken, beef or mutton. A delight.

Simple and fast.

Couscous : I

t is the traditional family lunch of Friday, but you will find every day in the restaurant. During your trip, Morocco couscous cuisine, you can taste a thousand different couscous, since they vary by region and creativity of the cook.

Méchoui :

Roast

lamb

or goat on a spit or in the oven. The meat melts in your mouth.
Ramadan Dishes :

At sunset

, we

break the fast

(f'tour) with the rich and tasty harira, meat soup, lentils and

chickpeas,

beghrir, small

honeycomb

pancakes served with melted

butter and honey

the

shebbakia

, cakes fried in

oil and coated with

honey

and, of course

, dates

. This breakfast "light" lets wait for the real dinner

that takes place

later

in the night.

Tajines :

This word

refers to both the container (flat earthenware decorated topped with a typical

conical lid

) and the

best of Moroccan cuisine (meat stew, poultry or fish and vegetables stewed). Taste,

you will understand why

the tajine is the Moroccan national dish. Try not to use your cutlery

to eat it

, he rather enjoyed with your fingers.
Moroccan

patisseries

:

Honey cakes, horns of gazelles, feqqas almonds, raisins, ghoriba with almonds and sesame … Irresistible!